Mikes models page one. Fireball XL5
You might say that outside of literature Fireball was my first exposure to visual Science Fiction. I still love this and most all of Gerry Andersons work.
Christmas 1965. Yes the size was right. Yes yes I ripped off the paper and there she was: a giant Fireball XL5 OF MY OWN. Thanks Mom and thanks for saving it.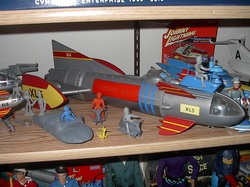 My original MPC Fireball with the properly painted fins and thrusters. An art studio on e-bay is offering very nice repro stickers for these old gals.
A 90% scratch built 3.5 foot XL5 along with two kits from Comet models in the UK.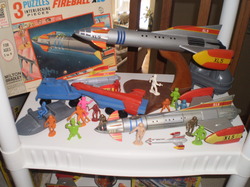 A wood XL5 from e-bay and a Comet plastic/metal model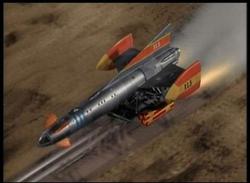 Colorized XL5. After they came out with the box DVD set they produced anouther set which contained TWO colorized episodes.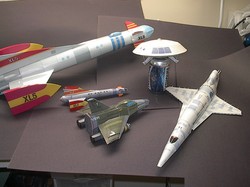 The large cardstock XL5 model is very rare. I bought it at Mall Of America in the 80s. Since I have never seen it anywhere-I still have a copy:}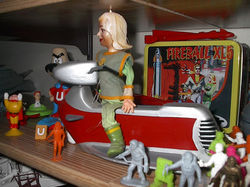 A scratchbuilt hover bike for my Venus puppet.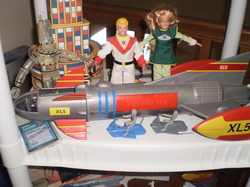 The Robert is scratch built using clear Micro Mark resin, Steve and Venus costumes were made by a noted Mego custom builder (Reproheads) and Steve's head is my first attempt at sculpting heads.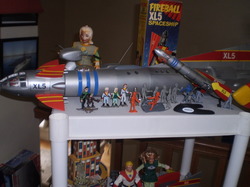 This big kit 3.5 feet started out as a limited edition $350 kit from the UK. It was crap! I had to re-build the front hull with PVC, recast the Fireball Junior and scratch build the interior. I am still not happy with it I it's on my list to go back into "drydock" for an overhaul.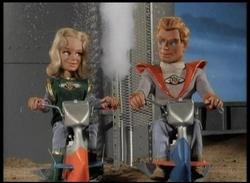 Steve and Venus in color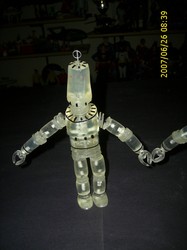 A better shot of my clear resin Robert model
Whats next for Fireball modeling?
Well I want to build a Fireball Junior that will fix fit my 8" figures.
I also want to make an accurate Robert figure with lights and a Space city diorama
I also have an extensive Fireball comic and book colection-most of which is kept away from light because of its age